On 16 September 2022 the Grand and General Council elected HE Ms Maria Luisa Berti II and HE Mr Manuel Ciavatta I as Captains Regent of San Marino to serve from 1 October 2022 to 1 April 2023.
In the Ceremony of Investiture of the newly-elected Captains Regent, that was held on 1st October 2022, were also present the Secretary General of the Council of Europe, Marija Pejčinović Burić and the Apostolic Nuncio, Mons. Emil Paul Tscherrig.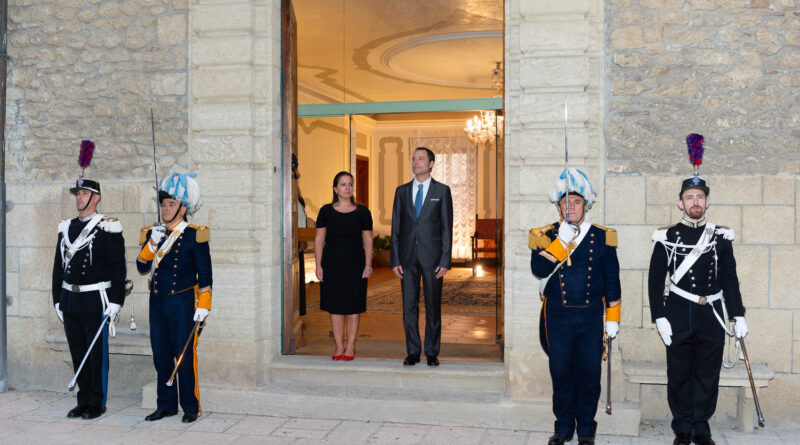 HE Ms Maria Luisa Berti II
She was born on 6 October 1971 in San Marino. She graduated from high school in classical studies and subsequently graduated in law from the University of Urbino. She approached politics in 1989, joining the Christian Democrats, as part of the youth movement and later became director of the periodical "Action".
She was elected to serve in the Grand and General Council in 2001, until 2006 as a representative of the Christian Democratic Party. In 2006 she founded the "Noi Sammarinesi" movement and was elected to parliament in 2008.
This is her second term in office. Eleven years prior, she was in the same post for the April to October 2011 political term.
HE MR Manuel Ciavatta I
He was born in San Marino on December 27, 1976. Having graduated in Building Engineering (University of Bologna), he is Professor of Physics and Technology at the Centre for Professional Training and Technical Education at the Fonte dell'Ovo Middle School.
He is Deputy Secretary of the Christian Democratic Party of San Marino, former councillor in the XXVIII Legislature. During the current legislature he is serving as a member of the Permanent Council Commission for Foreign Affairs.