The Consulate of San Marino's Think Tank has a sole mission: To shed a light on democracy and freedom through the prism of the only surviving city-state and the oldest republic and democracy in the world- San Marino.
As the US president Abraham Lincoln on May 7, 1861, mentioned: "Although your dominion is small, your State is nevertheless one of the most honored, in all history". Yet, there so are many important and interesting facts about San Marino to be discovered by people.
San Marino is a parliamentary Republic with two Captain Regents (Heads of State) and a Parliament composed of 60 members. Recognizing the fact that the accumulation of power is very dangerous, in San Marino even the two Captains Regent are replaced every 6 months and no other authority has permanent power.
It inherited this model of state from the Roman Empire and San Marino has been recognized by UNESCO as an exceptional testimony to the institution of a representative democracy based upon civic autonomy and self-government, having been the capital city of an independent Republic since the 13th century with unique continuity and without interruptions.
San Marino remained free of the Napoleon invasion, neither did Nazis occupy it during WWII. It remained forever a safe shelter for everyone fearing persecution on faith or beliefs or other grounds. During World War II, San Marino provided a safe shelter for more than 100,000 Italians and Jews from Nazi and Italian persecution.
Open invitation to join San Marino Think Tank
The Honorary Consulate of San Marino in London cordially invites admirers of San Marino, politicians, business leaders, academics and researchers to join its Think Tank to freely express their views on matters and challenges of promoting democracy and its values in our contemporary world.
All the events will be held under the Chatham Rule and the guest speakers may elaborate any of the topics below, part of the British Values and fundamental to any society and its cohesion:
Democracy
The rule of law
Individual liberty
Mutual respect & tolerance of different faiths and beliefs


Upcoming events
Check back soon for new events.
Past events

A conversation with the Rt Hon Dr Liam Fox MP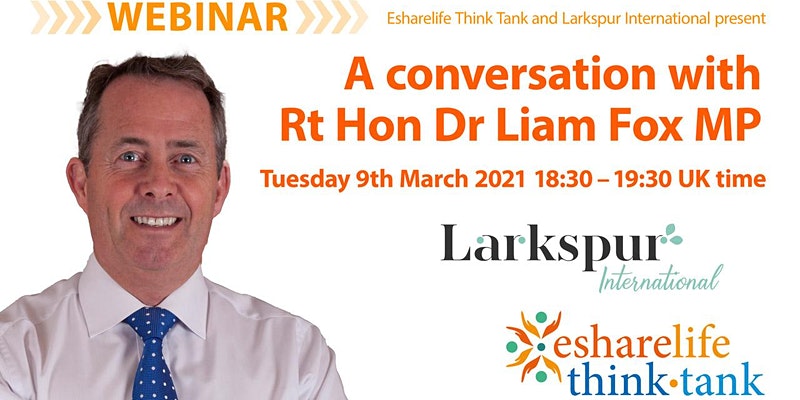 On March 9th, 2021, San Marino Think Tank in collaboration with Esharelife Think Tank and Larkspur International was pleased to organise a virtual conversation with the Rt Hon Dr Liam Fox MP, one of the most influential and insightful politicians of our time.
 
The Rt Hon Dr Liam Fox MP has been a Member of Parliament for North Somerset since 1992.  In John Major's Government, he served as a Minister at the Foreign & Commonwealth Office and as Government Whip (Lord Commissioner of the Treasury).  He had previously served as Parliamentary Private Secretary to Michael Howard, then Home Secretary. Dr Liam Fox MP served as Secretary of State for International Trade from 2016 to 2019 and Secretary of State for Defence from 2010 to 2011.
 
Participants were able to learn from Dr Fox's vast expertise dealing with the government and global issues, as well as to get an insight into the extraordinary efforts of the UK government to serve the best interests of its citizens, to build better and in sustainable way our future and to maintain its reputation worldwide.
 
Although this was a free event, if you would like to make a small donation to help the children in Kenya supported by Esharelife Foundation, please visit esharelife.org or virgin money giving. 


Wbinar-Machiavelli, ends, means and modern leadership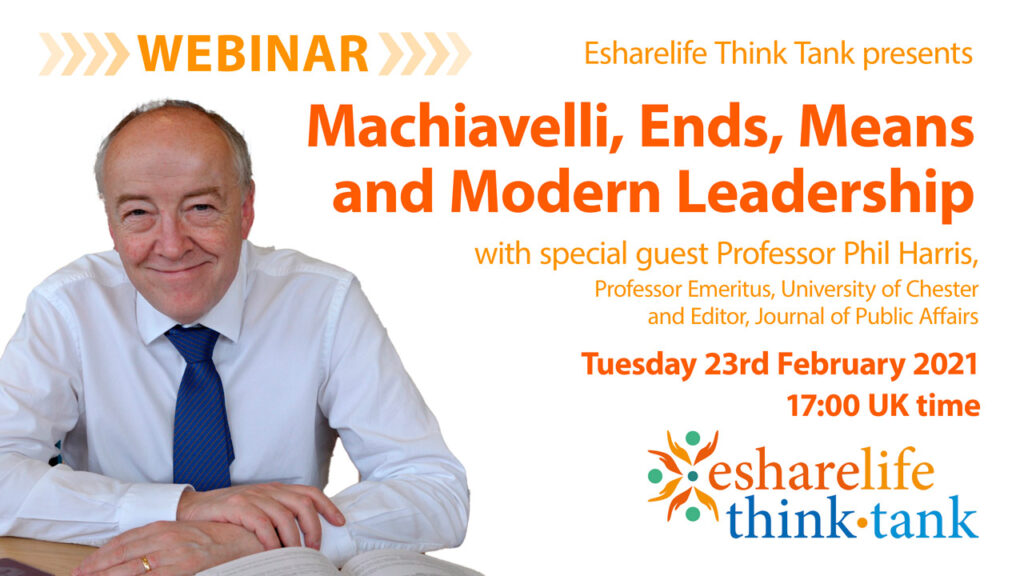 The event was co-hosted by the Think Tank of the Honorary Consulate of San Marino to the UK and Esharelife Think Tank for a stimulating discussion on Machiavellism and modern democracy, on Tuesday 23 February at 17:00 UK time with guest speaker Professor Phil Harris.
Machiavelli's 'The Prince', an evil work of genius, still fascinates 500 years on. This work, in which he argued that a "prince", that is to say someone wielding power, may use immoral means to secure his ends, has given the word Machiavellian a place in ordinary language.
Was Machiavelli an evil? In his own words 'As far as the act goes, that it may be a sin, is a fable, because what sins is the will, not the body.'
Some argue, Machiavelli is perennially important because he grasped that the governments of his day no longer truly represented their people. Even their language had become archaic and devoid of meaning.
Professor Phil Harris has promised to sail around controversial figure of Machiaveli and deliver to the particpants a "human" version of him.
Professor Phil Harris is Professor Emeritus and past Executive Director of the Business Research Institute at the University of Chester and held the Westminster (Grosvenor) Professorship in Marketing and Public Affairs.
He is founding editor of the Journal of Public Affairs and a member of a number of international editorial and advisory boards and has authored over 200 articles and 20 books. He holds 6 professorships in Beijing, Dalian, Guilin, Jiangsu, Wuhan and Xiamen in China and is regularly called upon to advise and comment on China, Entrepreneurialism, International Business, Machiavelli, Marco Polo, Public Affairs and Transparency.
Talks by Rt Hon Sir John Hayes MP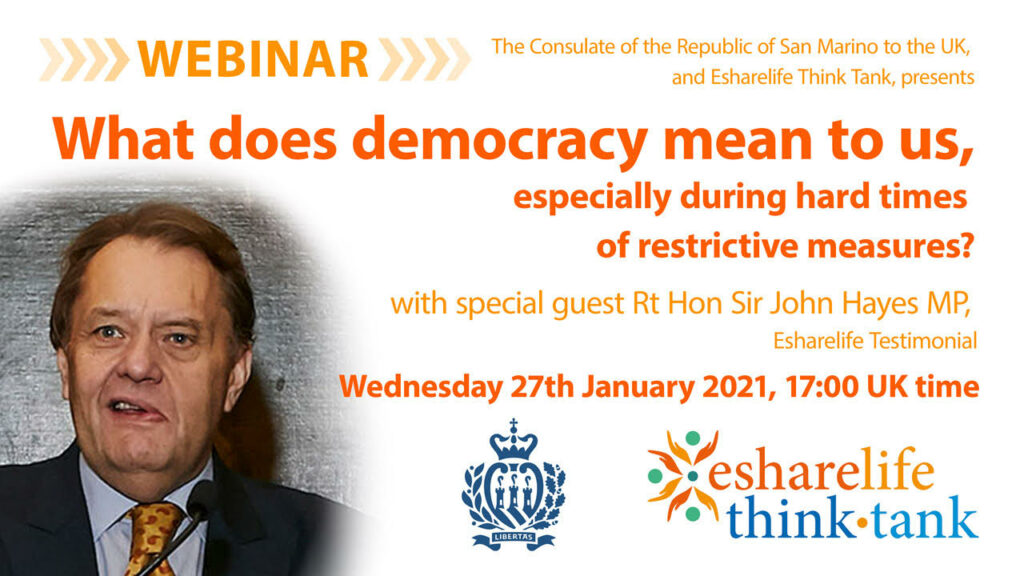 The event was co-hosted by the Honorary Consulate of San Marino to the UK and Esharelife Think Tank for a stimulating discussion what democracy means to us, on Wednesday 27th January at 17:00 UK time with guest speaker the Rt Hon Sir John Hayes MP.
The Rt Hon Sir John Hayes MP is a Conservative party politician serving as the Member of Parliament (MP) for South Holland and The Deepings since 1997. Senior Parliamentary Adviser to David Cameron. He was appointed as a Privy Councilor in 2013 for his great achievements as a Member of Parliament, a Commander of the Order of the British Empire in 2016, and a Knight Bachelor in 2018 for his public service.
Sir John Hayes has always supported the Esharelife Foundation in every aspect of the charity's activities. He believes that education is crucial in order to live a good life and for this reason, he has always been present at the recent charity events.
Esharelife Foundation is honoured to list Sir John Hayes among its Testimonials to thank him for the support he has always given to the Esharellife's noble causes.
*If you weren't able to attend the online event, you may watch the recording of Rt Hon Sir John Hayes MP's speech here.