The Consulate of San Marino's Think Tank has a sole mission: To shed a light on democracy and freedom through the prism of the only surviving city-state and the oldest republic and democracy in the world- San Marino.
As the US president Abraham Lincoln on May 7, 1861, mentioned: "Although your dominion is small, your State is nevertheless one of the most honored, in all history". Yet, there so are many important and interesting facts about San Marino to be discovered by people.
San Marino is a parliamentary Republic with two Captain Regents (Heads of State) and a Parliament composed of 60 members. Recognizing the fact that the accumulation of power is very dangerous, in San Marino even the two Captains Regent are replaced every 6 months and no other authority has permanent power.
It inherited this model of state from the Roman Empire and San Marino has been recognized by UNESCO as an exceptional testimony to the institution of a representative democracy based upon civic autonomy and self-government, having been the capital city of an independent Republic since the 13th century with unique continuity and without interruptions.
San Marino remained free of the Napoleon invasion, neither did Nazis occupy it during WWII. It remained forever a safe shelter for everyone fearing persecution on faith or beliefs or other grounds. During World War II, San Marino provided a safe shelter for more than 100,000 Italians and Jews from Nazi and Italian persecution.
We cordially invite admirers of San Marino, politicians, business leaders, academics, and researchers to join the Consulate of San Marino's Think Tank to further elaborate issues of democracy and freedom in our contemporary world.
Upcoming events
Talks by Rt Hon Sir John Hayes MP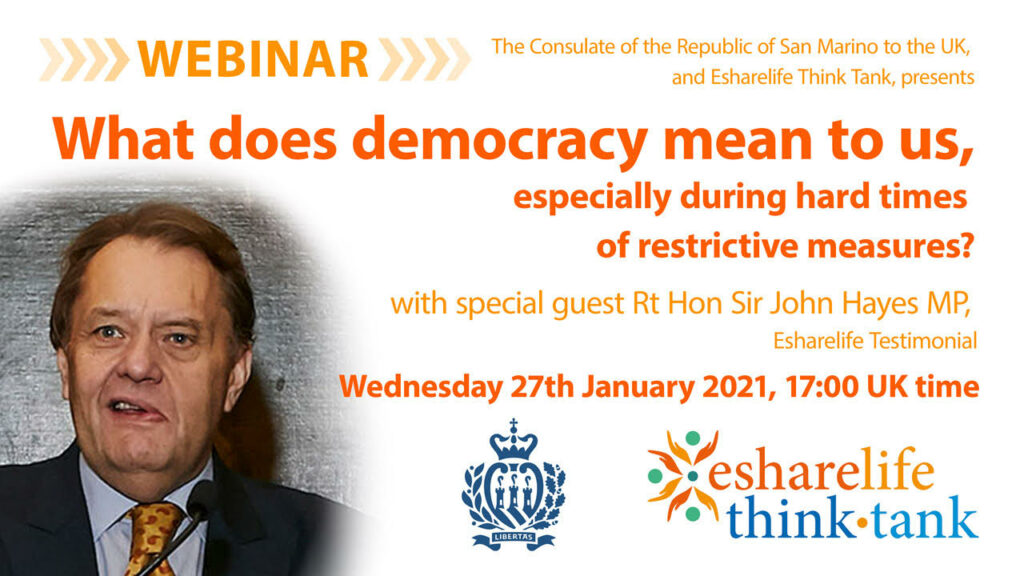 Title of the event: What does democracy mean to us, especially during the hard times of restrictive measures?
Format: Via zoom
When: 27 January 2021, 5 pm-6 pm UK time
Please join the event co-hosted by the Honorary Consulate of San Marino to the UK and Esharelife Think Tank for a stimulating discussion what democracy means to us, on Wednesday 27th January at 17:00 UK time with guest speaker the Rt Hon Sir John Hayes MP.
The Rt Hon Sir John Hayes MP is a Conservative party politician serving as the Member of Parliament (MP) for South Holland and The Deepings since 1997. Senior Parliamentary Adviser to David Cameron. He was appointed as a Privy Councilor in 2013 for his great achievements as a Member of Parliament, a Commander of the Order of the British Empire in 2016, and a Knight Bachelor in 2018 for his public service.
Sir John Hayes has always supported the Esharelife Foundation in every aspect of the charity's activities. He believes that education is crucial in order to live a good life and for this reason, he has always been present at the recent charity events.
Esharelife Foundation is honoured to list Sir John Hayes among its Testimonials to thank him for the support he has always given to the Esharellife's noble causes.
*If you would like to attend the online event, please register via Eventbrite here.