On 8-10 October 2021 Gr. Uff. Rt Hon Jeremy Hunt MP visited San Marino, where he received the prestigious Order of Saint Agatha at the rank Grand Officer. The order has been conferred to him about a year ago by the government of the Republic of San Marino, but the official award ceremony was held on the 9th of October 2021 due to Covid-19 restrictions in place at that time.
The Republic of San Marino has recognised Gr. Uff. Rt Hon Jeremy Hunt MP's merits in promoting San Marino best interests in the UK, for his valuable support during the emergency situation created in the Republic during the pandemic COVID19. As well as for his dedicated work in leading his own charity & supporting other charities worldwide.
Gr. Uff. Hunt, also a Testimonial of the Esharelife Foundation, has offered incredible help to the Consulate of San Marino in London to coordinate and dispatch help during the Covid-19 emergency and has expressed solidarity to San Marino while the Republic was hardly hit by the COVID-19 pandemic.
Gr. Uff. Hunt, in his capacity as Chair of the Health and Social Care Select Committee of the UK Parliament, has helped to raise awareness on the hardship that San Marino was facing at that time by saying: "As we worry about Italy, do not forget tiny San Marino, the oldest republic in the world, right in the middle of the Italian red zone & with the highest infection rate in the world."
During his visit, Gr. Uff. Hunt was received by the Secretary of State for Foreign Affairs, HE Dr Luca Beccari, who conferred to him the Order of Saint Agatha and had a very open and constructive conversation about strengthening bilateral cooperation between the two countries, as well as in the multilateral fora.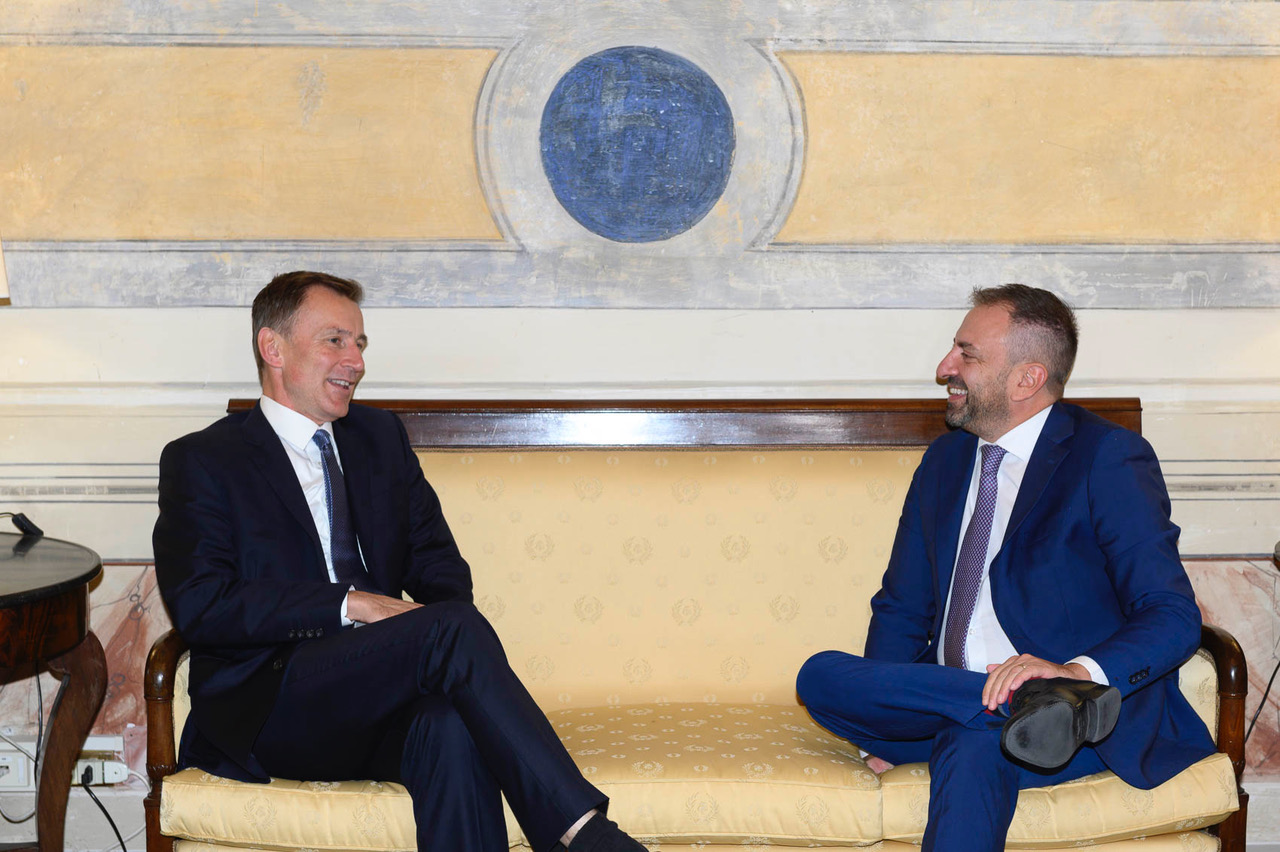 Gr. Uff. Hunt was warmly received in an audience by the Captains Regent, Their Excellencies Francesco Mussoni and Giacomo Simoncini, during which Mr Hunt made a brief speech underlining the in common between the two countries, such as the importance of the value of freedom and now after Brexit for the UK it would be possible, and it has been declared by the British Parliamentarian, to have strong commercial relations with San Marino. Currently, the United Kingdom is developing new trade relations with more strength and energy, especially with countries outside the EU.