Throughout the Covid-19 pandemic, the Consulate has maintained an interactive communication with San Marino citizen, via letters, phone calls, website, and its social media channels to inform them about restrictions in place in the UK, San Marino, and Italy, as well to provide them with practical information on accessing basic services during these difficult times.

The Consulate has been able to offer help to the San Marino government as well, to overcome the difficult situation caused by the coronavirus pandemic, by using the Consulate's diplomatic channels to raise awareness of UK people and institutions about the dire situation that the Republic was facing, to raise funds via social media channels and via direct donations of face masks and money for the benefit of San Marino hospitals. The Consul, to avoid confiscation on the border with Italy and further delays, transported and delivered himself face masks to the San Marino hospitals and Department of Foreign Affairs of San Marino.

As a history of success, we could mention the case when a baby girl was born in the UK in the middle of the Covid-19 crisis, at the time of heavy restrictive measures in place. The baby's father is a San Marino citizen and the mother Italian. The father asked for our help since they couldn't reach the Italian Consulate and they wanted to travel to San Marino as soon as possible. Due to the dedicated work of the Honorary Consulate's staff, we have been able to maintain close contact with the parents and provided them with information on all the options and procedures applicable to that case. Despite being forced to work remotely, we were able to carry on the procedures to register the baby in San Marino, and in cooperation with the Italian Consulate, we made it possible to obtain the Italian passport for the baby in record time. The baby's father has sent a letter saying he can't find the necessary words to thank us and he will come to the Honorary Consulate's offices to thank us in person.

As well, the Consulate of San Marino in London reacted positively to a request received by Chelsea Academy, a secondary school in London, and has donated to them 1000 face masks for the use of teachers and students. This modest donation by the Consulate of San Marino in the UK reflects the same spirit of solidarity and cooperation that San Marino received from the UK and other countries to overcome the severe situation caused by the COVID-19 pandemic.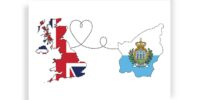 San Marino is on the amber list. Travellers from countries on the amber list who do not have a travel history in countries that are red-listed during the 10 days prior to their arrival are allowed to enter the United Kingdom. Please check the documentation, quarantine and/or testing requirements for…