This guidance is useful for the citizens of San Marino to understand if a visa is required and if so, which one to apply for entering the United Kingdom.
The guidance refers to the British government portal www.gov.uk/check-uk-visa where you have the possibility to check, according to your nationality, if and which visa to apply for.
As per standard procedure, the portal will request your nationality. If you have more than one nationality, you will have to do this exercise twice.
The British authorities are very careful and meticulous in the visa procedure. Therefore, please remember to provide accurate and truthful reasons at each step of the procedure.
We would also like to remind you that the information on this guidance is true and accurate at the time of publishing (March 2021) and will only provide a brief general overview for San Marino citizens. Therefore, it is the responsibility of the individuals to check all the requirements and information specific to their case on the above-mentioned British Government website at the time of their visa application.
If your case is not covered in the following booklet or you have any problems with it, you will need to contact the competent consular or diplomatic authority or the Ministry of Foreign Affairs of the Republic of San Marino.
You may browse the scenarios below one by one, or download the full guide.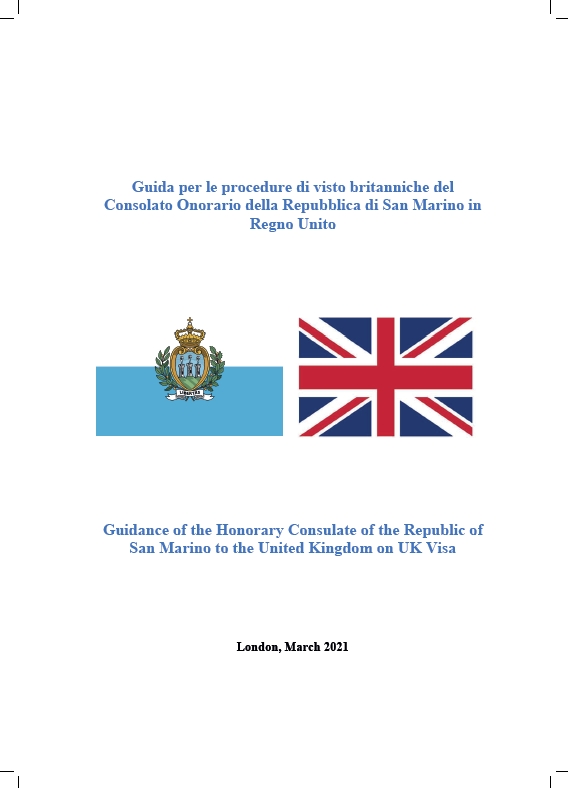 Scenarios
Youth Mobility Visa Scheme (T5)
Scenario 5 – Union with partner or visit to family
Scenario 6 – Marriage or civil partnership
Scenario 7 – Staying with your child if he or she goes to school
Scenario 8 – Obtaining private medical care